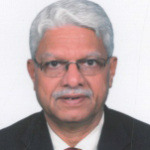 AVM (Retd.) Dr. Ajith Tyagi
Member, Scientific Advisory Board, IARSc, Bangalore,
Ajit Tyagi, a Post Graduate in Physics and Ph.D. in Numerical Weather Prediction, is President of Indian Meteorological Society at present and Senior Advisor at Integrated Research and Action for Development, New Delhi.
Dr Tyagi has served as Assistant Chief of Air Staff (Meteorology), Director General of Meteorology. He is Koteswaram Chair Professor, Ministry of Earth Sciences, New Delhi. He has carried out research work at Indian Institute of Technology, New Delhi and Indian Institute of Tropical Meteorology, Pune. Dr Tyagi was instrumental in introducing Numerical Weather Prediction and initiating modernization of aviation meteorological services in IAF. As DGM, Dr Tyagi successfully implemented the first phase of IMD modernization covering observations, communication, data processing, forecasting and dissemination. This led to significant improvement in the quality of Weather Forecasts and Warnings of cyclones and heavy rainfall and fog. Under his leadership, Agro Advisory Services were extended to 640 districts and Nowcast system was implemented during Commonwealth Games 2010. Dr Tyagi has been associated with STORM, BOBTEX and CTCZ field programmes. He has served on various committees of MoES, ISRO, DST, MoEF, NDMA, MoWR.
Dr Tyagi has served as Chairman of Governing Council of SAARC Meteorological Research Centre Dhaka, member of Governing Council Indian Institute of Tropical Meteorology, Pune and Indian Institute of Astro-physics Mumbai and member of Scientific Advisroy Committee of National Atmospheric Research Laboratory, Gadanki and member of Executive Council of World Meteorological Orgsnisation
Dr Tyagi was Permanent Representative of India with WMO during 2009-2013 and started South Asian Climate Outlook Forum (SASCOF). He participated in deliberations of World Climate Congress-3 and as a member of Executive Council Task Team played active role in formulation of Global Frame Work for Climate Services, and constitution of Inter Governmental Board. Dr Tyagi is currently a member of WMO Monsoon Panel.
Dr Tyagi served two terms as Vice President and is associated with various forums to promote meteorology including facilitating cooperation with American and Canadian Met Societies. He assisted Pune Chapter in organizing Training Workshops for Teachers and Media. Dr Tyagi is actively involved in the planning of Rain Museum at Cherrapunji. He has started e-magazine "Climate' to popularize meteorology amongst students and general public.
AVM Tyagi has been conferred with Vishistha Sewa Medal by President of India for his distinguished services and leadership.